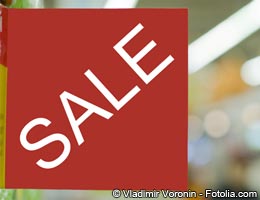 We often don't make our purchasing decisions based on when something is on sale but the savvy shopper knows that there is always an ideal time of the year to find the best bargains.
April is a great time to buy the following items:


Candy (from chocolate bunnies to jelly beans) – If you can wait till after Easter, you can find anything themed that can't be repackaged up to half off. April 22 is also National Jelly Bean Day (never knew that existed).
TVs, laptops, and tablets – New iPad Anyone? I'm personally an Android fan who enjoys using his wife's Kindle Fire. It's also a great time to buy electronics accessories.
Children's dress clothing – Right before Easter and Passover, parents will see dress clothing marked down by 25% to 50%.
Party items – Spring party planners can save as much as 70% off right after the holidays.
Rain gear and swimwear – Umbrellas, slickers, and jackets are 20% to 30% off. Shorts, T-shirts and tank tops are 25% to 40% off.
Leaf lettuce and other produce – Specifically romaine, green leaf, red leaf, and butter lettuce. Other products on sale include artichokes, asparagus (yuck!), strawberries (yummy!!!), and mangos (my favorite fruit).
Patio furniture and plants – It's time to enjoy the warm weather. You can find 20% to 30% off on patio furniture. Nurseries and garden centers will run super low prices on select items.
Spa services – For Spa Week (4/12-4/22), more than 800 participating spas are offering promotional deals.
For the full list of items on sale, read Dana Dratch's article "What's on sale in Aprtil?" at
bankrate.com
.
Shop Amazon - Best Sellers in Computers and Accessories